Description
2000 Olympia Expo: The Women plus solo posing
Behind the Scenes with GMV in this All Female Feature shot at the 2000 Olympia. It is a best of the best from the many amazing women we worked with at the Expo and on Olympia Sunday in various solo posing segments.
We took the current Ms. Olympia, VALENTINA CHEPIGA to the Mandalay Bay beach area to shoot this segment of pumping and posing specially for the DVD (see front cover left of DVD). You can see Valentina's contest history and more photos below.
Famous fitness model TIMEA MAJOROVA was filmed inside the spectacular Mandalay Bay Aquarium in a stunning posing display, see front cover right.
Enjoy all the excitement of the Olympia 2000 Expo and the famous women who attended. This muscular women's special production features the following stars in either posing sequences, brief interviews or both: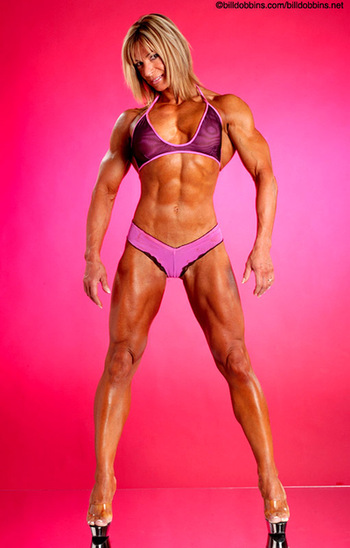 THE STARS:
*VALENTINA CHEPIGA (PICTURED LEFT by Dobbins)
*CORY EVERSON
SUSANNE NIEDERHAUSER
TIMEA MAJOROVA
*KIM CHISEVSKY
BEV FRANCIS
LYNN CONKWRIGHT
CHRISTINE ENVALL
PAULIINA TALUS
*YAXENI ORIQUEN
MELISSA FRABBIELE
ANNA UGGLA
SHENA FORKNER
CATHY MILLER
EMMANUELA PINTUS
LISA LOWE
TRUDY IRELAND
(* These 4 women have all been Ms Olympia winners.)
Plus the Met-Rx girls, highlights of the Joe Weider 2000 Model Quest and more. It is a bonanza of fabulous female muscle!
2000 Ms Olympia Results 
Lightweights up to 135 pounds 
1 Andrulla Blanchette England
2 Brenda Raganot USA
3 Renee Casella USA
4 Cathy LeFrancois Priest Canada
5 Jennifer McVicar USA
Heavyweights over 135 pounds
1 Valentina Chepiga Ukraine
2 Vickie Gates USA
3 Lesa Lewis USA
4 Yaxeni Oriquen Venezuela
5 Iris Kyle USA
6 Denise Hosher USA
7 Th-resa Bostick USA
 Photos below by Wayne Gallasch and Clive Jaques.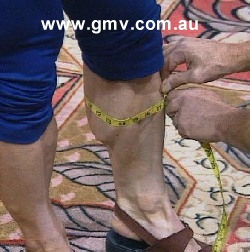 Christine Envall's Calves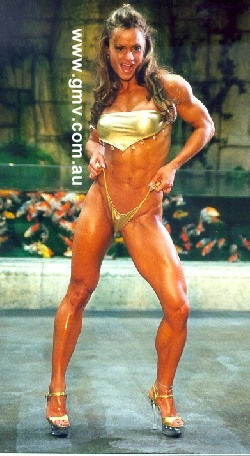 Timea Majorova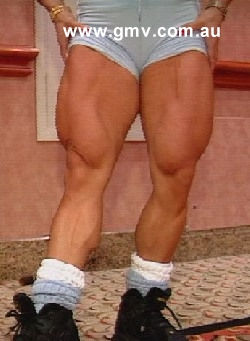 Pauliina Talus' legs
Valentina Chepiga's Contest History
1993:  European Amateur Championships – IFBB, MiddleWeight, 3rd
1994
European Amateur Championships – IFBB, MiddleWeight, 2nd
World Amateur Championships – IFBB, MiddleWeight, 7th
1995:  World Amateur Championships – IFBB, MiddleWeight, 7th
1997
European Amateur Championships – IFBB, MiddleWeight, 1st
World Amateur Championships – IFBB, Overall Winner
World Amateur Championships – IFBB, MiddleWeight, 1st
1998:  Olympia – IFBB, 12th
1999
Jan Tana Pro Classic – IFBB, 3rd
Olympia – IFBB, 12th
2000
Jan Tana Pro Classic – IFBB, MiddleWeight, 1st
Olympia – IFBB, HeavyWeight, 1st
2001:  Olympia – IFBB, HeavyWeight, 4th
2002
Ms International – IFBB, LightWeight, 1st
Olympia – IFBB, LightWeight, 2nd
Show of Strength Pro Championship – IFBB, LightWeight, 1st
2003:  Ms International – IFBB, LightWeight, 5th
2004:  Olympia – IFBB, LightWeight, 8th
2007:  Olympia – IFBB, Physique, 11th
Andrulla Blanchette's Contest History
1988:  World Amateur Championships – IFBB, LightWeight, 10th
1992:  World Amateur Championships – IFBB, LightWeight, 3rd
1993
European Amateur Championships – IFBB, LightWeight, 1st
World Games, LightWeight, 1st
1995:  Jan Tana Pro Classic – IFBB, 6th
1996
Grand Prix Prague – IFBB, 3rd
Grand Prix Slovakia – IFBB, 3rd
Ms International – IFBB, 11th
Olympia – IFBB, 8th
1997:  Olympia – IFBB, 7th
1998
Ms International – IFBB, 9th
Olympia – IFBB, 6th
1999
Ms International – IFBB, 5th
Olympia – IFBB, 7th
2000
Ms International – IFBB, LightWeight, 2nd
Olympia – IFBB, LightWeight, 1st