Description
2000 Mr. Olympia – Pump Room # 1
This is the Ultimate Mr. Olympia Pump Room Set of videos! Here is Pump Room Video #1.
* Pumping
* Posing
* Interviews
* Oiling
* Tension
* Drama
* Sweat
* Fear
Share the intimate Pump Room experience back stage at the 2000 Olympia in Las Vegas. It's every man for himself in the tense moments before their on-stage battle for bodybuilding's ultimate prize – THE 2000 MR. OLYMPIA TITLE!!
Shot with 2 cameras, Video # 1 (of 2) is primarily the Pump Room during rounds 1 and 2 of the Prejudging.
It includes interviews with:
* Kevin Levrone
* Lee Priest
* Shawn Ray
* Dexter Jackson
In particular we feature the pump room preparation of Günter Schlierkamp, Jay Cutler, Nasser El Sonbaty, Lee Priest, Markus Rühl, Orville Burke & Kevin Levrone. This was the closest Kevin came to winning Mr Olympia. His condition was sensational. It took the incredible size, shape and condition of Ronnie to deny him the title.
Also includes the over-taping of the official photographer's booth back stage, with Ronnie Coleman and all the other Olympia stars!! See the superstars in great closeups as our camera examines every inch of the champion's bodies, sinew by sinew and striation by striation.
More superb closeups below as the guys pose for stills taken by Clive Jaques and Wayne Gallasch.
Final Placings were as follows:
1st Ronnie Coleman
2nd Kevin Levrone
3rd Flex Wheeler
4th Shawn Ray
5th Nasser El Sonbaty
6th Lee Priest
7th Markus Rühl
8th Jay Cutler
9th Dexter Jackson
10th Orville Burke
11th Dennis James
12th Günter Schlierkamp
13th Oleg Zhur
NTSC DVD, OPEN REGION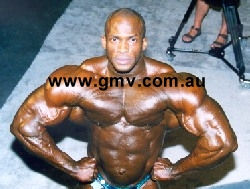 Orville Burke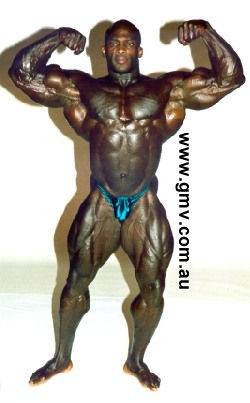 Orville Burke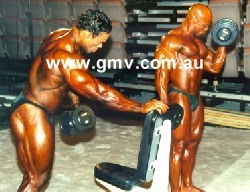 Kevin Levrone & Shawn Ray
Oleg Zhur
Kevin Levrone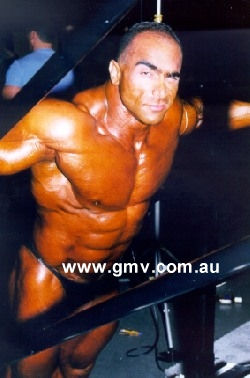 Nasser El Sonbaty
Lee Priest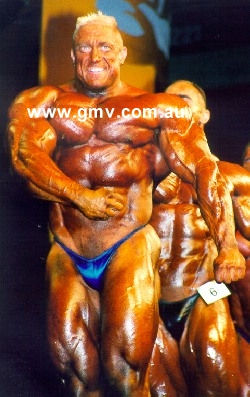 Markus Rühl