Description
2013 INBA SA Figure & Physique: Bodybuilding
The 2013 INBA S.A. Bodybuilding contest was the first of 2 shows held at the Norwood Concert Hall on Sunday, September 29th. From this high standard competition, you will see a large number of top quality competitors spread over many different classes.
The Overall Bodybuilding Men's Champion was an extremely muscular SALIM HASSAN.
Enjoy some fabulous physiques in this video, with every round included through to the final posedowns and awards. Includes all routines from the Posing Rounds.
The Major Sponsors were Max's and Australian Muscle.
MEN'S PHOTO GALLERY.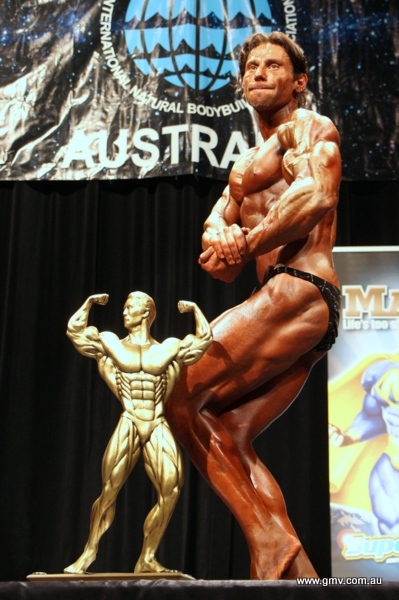 Extra Scenes:  Photo Gallery
Photos by Brendan Breen
Class Winners – Men
TEENAGE: Richard Mammone
JUNIOR: Christian Cirocco
NOVICE: Ricky McAuley
INTERMEDIATE: Victor Spruyt
MASTERS O'40: Carlos Azevedo
MASTERS O'50: Mark Robson
OPEN SHORT: Salim Hassan
OPEN TALL: Samuel Mussared
Class Winners – Women
NOVICE: Lee-Anne Benn
INTERMEDIATE: Jessica Woodley
MASTERS O'40: Lee-Anne Benn
MASTERS O'50: Lisa Morby
OPEN: Janelle McLean
MEN'S OVERALL: Salim Hassan
Men's Posing Award: Samuel Mussared
Complete Men's Bodybuilding Results:
2013 INBA South Australian Figure & Physique Titles: Bodybuilding – Men
Norwood, S.A.   September 29, 2013
MEN'S TEENAGE
1. Richard Mammone
2. James Wentworth
3. Daniel Dinsdale
4. Murtadha Salman
MEN'S JUNIOR
1. Christian Cirocco
MEN'S NOVICE
1. Ricky McAuley
2. Jason Swincer
3. Jordan Brown
4. Thomas Midson
5. Richard Mammone
6. Jackson Biggins
Leigh Vivian
Steven Bria
Jarden Stoetzer
Luke Kumelovs
Nathaniel Lang
Jeremy Lim
Nathan Turner
Edward Jones
MEN'S INTERMEDIATE
1. Victor Spruyt
2. Anthony O'Brien
3. Richard Pham
4. Matt Watkins
5. Matthew Cooper
6. Jamie Michalak
Kyle Duncan
Zakary Roennfeldt
Joshua Dornin
Johnny Gagliardi
MEN'S MASTERS O'40
1. Carlos Azevedo
2. Tommy Settimio
3. Michael Deanne
4. Julian Draper
5. Rommel Romarate
MEN'S MASTERS O'50
1. Mark Robson
2. Ian Bowden
3. Dave Sargent
4. Peter Marshall
MEN'S OPEN SHORT
1. Salim Hassan
2. Gary Cleggett
3. Billy Bryson
4. Duncan Rankine
5. Carlos Azevedo
6. Richard Pham
7. Julian Draper
MEN'S OPEN TALL
1. Samuel Mussared
2. Gerard McCuish
3. Josh Cox
4. Tommy Settimio
5. Will Stoetzer
6. Rick Byron
Edward Jones
Michael Deanne
MEN'S OVERALL: Salim Hassan