Product Description
Believe to Achieve – John Hodgson Training – Part 2
"A journey into the world of bodybuilding with British IFBB Pro – John Hodgson".
Part 2: (Workouts in colour)
Chest workout
Biceps workout
Posing in trunks
Brief interview on John with Dorian Yates
Leg workout
Morning cardio
Kerry Kayes talks about John
Guest posing at an UKBFF Qualifier with Mustafa Mohammad
Motion photo gallery
John takes you through his entire workouts. Instead of the camera just showing you John training, John explains in detail what, why and how he trains, giving his opinions and tips along the way. He also shares his views on nutrition and supplementation along with other useful tips for successful bodybuilding.
An interview with Britain's leading bodybuilding promoter Kerry Kayes who has known and helped John throughout his entire bodybuilding career.
6 times Mr Olympia Dorian Yates gives his personal opinion on John as a bodybuilder.
John's contest posing at an English GP.
DVD shot and produced by Eric Guy for John Hodgson.
A review of this DVD.
Training photos of John Hodgson taken the day after the 2007 IFBB Aussie GP.
Brief Bio: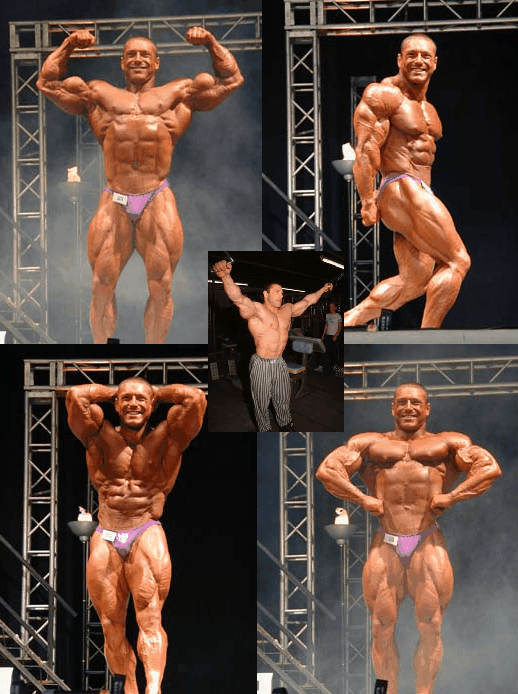 John Hodgson, "Mr Condition" to his fellow Competitors, is renowned for bringing a granite like physique to the competitive stage. He gives new meaning to the word "condition".
With three EFBB British titles and an IFBB Pro card to his name, John has demonstrated that he knows better than most how to step on stage, ripped, rock hard and muscular.
John has competed as an underdog on the Pro circuit, however, this has never prevented him from giving 110% effort to his preparation. His meticulous approach has had bodybuilding observers label him the "Machine".
With the Arnold and Olympia set firmly in his sights, you can guarantee "Mr Condition" will make his competitive dreams come true…..
"You have to BELIEVE to ACHIEVE".
Born – 20th September 1968
Height – 5ft 4″
Off season Weight – 210-220lbs
Contest Weight – 190-200lbs
Chest – 50″
Waist – 32″
Biceps – 18-19″
Quads – 28-29″
Calves – 17½"
Distributed under license by GMV Productions, Australia.