Description
ZACK KHAN – KING KHAN
As stated by IFBB professional bodybuilder JAMES "FLEX" LEWIS, "this is the most hardcore DVD since Blood & Guts!"
The greatly anticipated and long awaited full colour DVD from ZACK "KING" KHAN is now here. It is the most hardcore DVD to come out of UK since Dorian's Blood & Guts DVD. For those few of you who say who is Zack Khan, he is truly something special. He is easily the biggest, freakiest bodybuilder to come along since Dorian when at his absolute peak. Not surprisingly Dorian has given Zack enormous help and support over the years, and this is evident in Zack's rock-hard physique and 24″ arms.
ZACK "KING" KHAN is UK's latest IFBB professional and he takes you deep inside two of the world's most hardcore gyms, based in the UK. First witness new Pro bodybuilder Zack Khan training at full intensity at his own gym in Sheffield, England.
Then watch Zack travel to an underground gym in South Wales to torture his legs under the watchful eye of star trainer and IFBB Pro Bodybuilder Neil Hill.
KING KAHN gives you an insight into the brutal training and ruthless determination that has made him one of England's  biggest and freakiest bodybuilders of all time. Watch out for massive damage when he walks on stage in a future USA based GP!  Zack is the current Super-Heavyweight and Overall British Champion.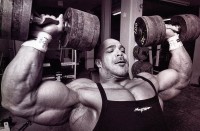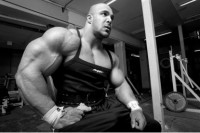 Name: Zack Khan
Born:  July 1  1980, Kashmir, Pakistan. Nicknames: The Freak, King Kong Khan, King Khan
Location:  Sheffield, United Kingdom
Off Season Weight:  Around 310 lbs | Competition Weight:   Around 280 lbs
Height:  6'0″ | Arms:  24″ | Chest:  61″ | Waist: 34″ | Thighs:  32″ | Calves:  22″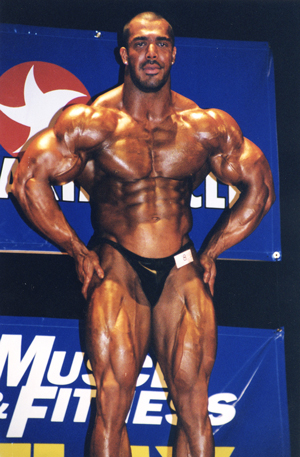 FAVOURITES BIO
Body Part most like to Train: Chest
Best Muscle Group: Arms (Lock 'n Load)
Favourite Music: RnB, Hip Hop and Dance
Favourite Movie: Scar Face (Nah am saying Thoneeee Manthanaa!!)
Fave Movie Actor: Al Pacino
Favourite Food: Steak n Chips, Pizza, Ice Cream, Cream cakes (Erm.. missed anything out)
Favourite Relaxation: Getting laid (only joking, not training)
Favourite Bodybuilder: ARNOLD (The main man)
Favourite BB Mag: The Beef
Qualities most Attracted to: Honesty
Best Known Qualities: Honest
Greatest Moment in Bodybuilding: Being one of the top amateurs in country
Greatest Anticipation for Future: Placing top ten in the Mr. Olympia
BRIEF CONTEST HISTORY
A.N.B. Junior U.K
Mansfield 1st place Junior
Mansfield 3rd Place Men's Heavy weights
Mansfield 2nd Place Men's Heavy weights
2000 EFBB British Championships 4th place Over 90 Kg class
2001 EFBB British Championships 2nd place Over 90 Kg class
2002 EFBB British Championship 3rd place Over 90 Kg class
2005 2nd place in the Men's Heavyweight class British Championships
2006 2nd place in the Men's Heavyweight class British Championships
2007 2nd place in the Men's Heavyweight class British Championships
2008 4th place in the Men's Heavyweight class British Championships
2009 1st place in the Men's Super-heavyweight class and Overall at the British Championships
Contest photo above by Tina Gallasch. Other photos courtesy KP Ourama.