Description
AUSSIE MUSCLE OF THE '70S VOLUME 1
See some of the biggest stars of Australian Bodybuilding from the Seventies.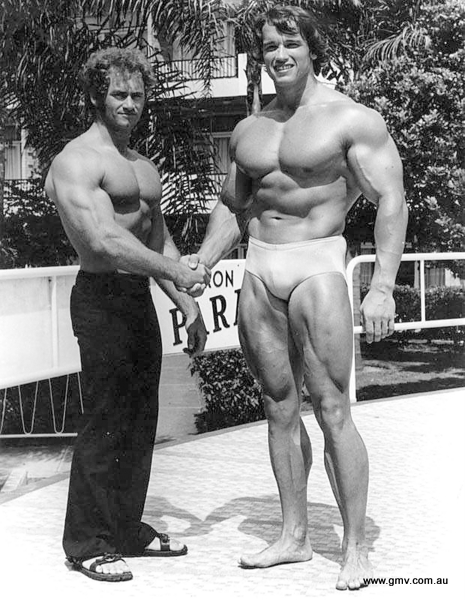 Shot on film and transferred to DVD with background music added.
Starring in order of appearance:
Clyde Bird
Robert Nailon
Bill Robertson
John Koziura
Sonny Gloynes
CLYDE BIRD
Posing by Clyde Bird, the Aussie Blond Bomber, starting with some informal scenes before he moves into dumbell presses, and chins, and then moving outdoors to show us some posing with his complete posing routine, shot with full body framing. Next it is some upper body posing with closeups on those huge arms and lats. Not to mention a great 6-pack.
After a swim, it's more posing by a now very wet Clive Bird, including his signature pose, the massive V-shape lat spread. The segment concludes with Clive posing his upper body while standing in the water.
ROBERT NAILON
He gets straight down to some posing in his back yard, displaying his famous 19″ arms in a series of upper body poses. Robert is in great condition.  Next he moves into a series of upper body poses in closeup.  Robert was one of Australia's most popular and well known physiques and gym owners of the 70s and early 80s. He was also an outstanding artist and photographer.  Robert Nailon is pictured right with Arnold, at Surfers Paradise, 1972. Photo courtesy Robert.
BILL ROBERTSON
This segment features the rock hard physique of Billy Robertson as he oils, pumps and tenses ready for his posing session. See some great closeups on his arms as he oils and tenses them for the camera. More closeups of his chest and arms as the pumping continues.
Now it is time for some serious pumping up with a heavy duty chest expander followed by some more arm tensing and stretching.
The pumping continues with some leg tensing and posing, along with some cable pumping for Billy's arms, in particular biceps cable curls and intense contractions. Billy now treats us to his posing routine hitting his best upper body poses.
The posing segment concludes with some classic style posing with a sword – Steve Reeves style, followed by more arm poses in extreme closeup.
JOHN KOZIURA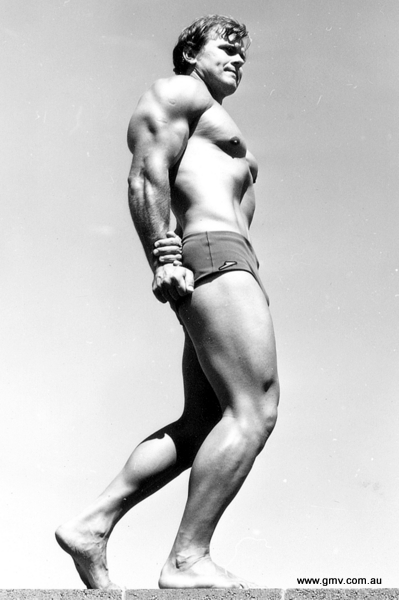 John Koziura is an Aussie legend and holds a record that is never likely to be beaten. That is 10 victories in the South Australian State Bodybuilding Championships between 1971, and the year of his tragic death in 1982. John won the title in the years 1971, 1973 and 1974, and then from 1976-1982.
This segment was filmed by Wayne Gallasch in a park, on an afternoon immediately after the prejudging of one of John's titles in the late 70s. See full body posing, along with John's complete routine, closeups and biceps pumping. John had great symmetry and a rugged physique with no real weaknesses.
The scene then changes to the special posing wall in for more posing by John before the session moves on to the beach for more pumping and posing with a dumbell. After oiling and tensing in the brilliant Adelaide sunshine, John presents his posing routine while standing in shallow water.
The next segment shows John on the banks of the River Torrens with the Adelaide city skyline behind him. More tensing and pumping before closeups on various body parts, concluding with John's full contest posing routine.
John is pictured right, photo taken in the '70s by Wayne.
SONNY GLOYNES
Sonny was one of those great physiques of the 70s who did not get the full accolades and publicity he deserved. Tall and blond with a physique more in the style of a Frank Zane, Sonny always impressed with his great condition and hard muscularity. He opens up with some oiling and tensing and then pumping with dumbells. Lots of curls and an incredible display of arms, filmed in a studio setting.
Now Sonny launches into his contest posing routine along with many closeups and tensing of his great set of abs.
The next segment commences with seated and standing poses in posing strap in the photography style of the early 50s and 60s. The segment ends with some dumbell pumping with many good closeups. Finally we see Sonny's posing routine on stage at the Australian Championships.
Photos by Wayne Gallasch and Robert Nailon.