Description
Strongman Battles of Strength – Part 2
From the Arnold Sports Festival.
* 6th Annual Arnold Strongman Classic.
* MHP Timber Lift (A new World Record time was achieved.)
* MHP Apollon's Wheels.
* 2007 Arnold Sports Festival Armwrestling Preliminaries (men & women.)
* MHP Circus Dumbbell Lift (A new record was created.)
* Results and Presentations. Winner 5th time in a row, Zydrunas Savickas.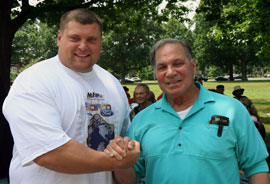 Bill Pearl congratulates Zydrunas Savickas on his recent Arnold Sports Festival Strongman victory.
Photo by Abakash Konopiaty
Competitors in the Strongman Competition at the Arnold Sports Festival:
Results including points:
1st Zydrunas Savickas – Lithuania    52 points.
2nd Vasyl Virastyuk – Ukraine           48 points.
3rd Andrus Murumets – Estonia         38.5 points.
4th Phil Pfister – USA                          36 points.
5th Oleksandr Pekanov – Ukraine       33 points.
5th Mikhail Koklyaev – Russia (tie)      33 points.
7th Brian Siders – USA                       28.5 points
8th Steve MacDonald – USA               23 points.
9th Karl Gillingham – USA                   19 points.
10th Travis Ortmayer – USA              17 points.
Photos courtesy  Arnold Sports Festival.