Description
2001 EFBB British Championships: Men – The Show
From Nottingham on 7th October, 2001, this is the prestigious EFBB British National Championships with pro cards hanging on the results for the main class winners.  See special guest posers and top English "Pros" in ERNIE TAYLOR (pictured below) and JOHN HODGSON.  
We include the posedown and awards for every class followed by each class winner presenting his posing routine. (All competitors' routines are shown in the prejudging tape).
Finally the class winners are judged and posedown before the overall title is awarded to a shredded MARK HARRIS (pictured front cover) of Wales.  We interviewed Mark right after his victory, flushed with pride at gaining his Pro card.
Our second camera at this event was shot by Colin Johnson.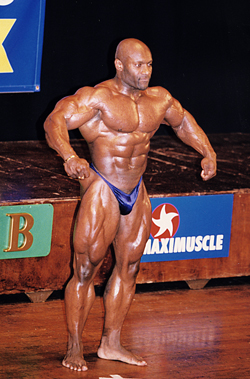 CLASS WINNERS
1st Timers:  HARDY PALMER
Juniors:  DEAN LESIAK
Up to 70 Kg:  JASON CARTER
Up to 80 Kg:  MARK HARRIS
Under 90 Kg:  LEE POWELL
Over 90 Kg:  SIMON COHEN
Up to 80 Kg Intermediates:  MARK MOXON
Over 80 Kg Intermediates:  ADAM ASHLEY
Masters:  JOHN ROBERTS
Overall Champion:  MARK HARRIS
COMPLETE MEN'S RESULTS:
2001 EFBB British Championships
Nottingham, England    7th October, 2001
Men's Juniors
1. Dean Lesiak
2. Eddy Eddison
3. Mark Cole
4. Silash Chauhan
Men's 1st Timers
1. Hardy Palmer
2. Josh Tomalin
3. Mitchell Gosling
4. Justin O'Dell
5. Shane Bye
6. Darryl Collier
Andy Edgar
Joel Wright
Jason Stone
Andre Metcalf
Jerry Blackwell
John Welsh
Darren Ball
Men's Seniors
1. John Roberts
2. Baz Bardsley
3. Carl Rung
4. Shah Azam
5. Paul Ehren
6. Gary Rollinson
Ian Blackwell
Steve Horsewell
Peter Carson
Stephen Culshaw
Ricky Wallis
Men's Intermediates Under 80 Kg
1. Mark Moxon
2. Mark Taylor
3. Kevin Turner
4. Eddie Moran
5. Jamie Hutton
6. Tony Montalbano
Men's Intermediates Over 80 Kg
1. Adam Ashley
2. Asaad Nakhal
3. John Freeman
4. Charles Kamulegeya
5. Darren Smith
6. Andrew Glynn
Simon Jones
Dominic Cannon
Robert Hughes
Jason Algar
Daniel Nehme
Doug Kelly
Sheru Angras
Grant Harrison
Men's Under 70 Kg
1. Jason Carter
2. Brett Smith
3. Gareth Worsfold
4. Philip Dunn
5. Simon Kendal
6. Karl Bhattacharyya
Nav Almeshan
Stewart Room
Men's Under 80 Kg
1. Mark Harris
2. Barry Lockwood
3. Justin Patten
4. David Thackeray
5. Tony Bailey
6. Mark Grier
John McLoughlin
Michael Bukowski
Men's Under 90 Kg
1. Lee Powell
2. Scott Gledhill
3. Graeme Bennett
4. Mark Etherden
5. Simon Fan
6. La'mon Amede
Darren Woerner
Garry Scales
Serge Camarou
Barny Du Plessis
David Billson
Rob Worthington
Men's Over 90 Kg
1. Simon Cohen
2. Zack Khan
3. Harold Marillier
5. Peter Spencer
6. Stephen Naylor
Barry Chamberlain
Duncan Meadows
Carl Vink
Overall Men's Champion: Mark Harris